Join Our Team At

Aloha Vet
Aloha Veterinary Hospital is seeking career-oriented veterinary professionals to join our team.
Competitive Compensation
Let's face it: In a late capitalism world, getting paid well certainly doesn't hurt.
Continuing Education Coverage
You'll get support in Fear Free Training and continuing education. Use it to get even better at what you do!
Uniform Stipend
We love our team members to be well dressed and comfortable in their stitches.
Paid Time Off
Everyone needs a vacation or just time to decompress. We encourage taking time for yourself.
Medical Insurance
Medical, dental, and vision. Podiatry too, probably. We value health of people too!
Pet Service Discount
As part of the aloha vet family you will your fur babies will get taken care of too! We would never leave them out!
Aloha Vet

Culture

We are a full service and highly accredited small animal veterinary hospital located in the beautiful Lake Norman area! Our clients praise Aloha as one of the friendliest and family centered businesses in North Carolina.

The Aloha team has a deep passion for pet health and are equally empathetic as it relates to our clients and their needs. We never take anything for granted when it comes to serving our community! We are an energetic bunch, always looking for new ways to keep and maintain the true "Aloha" lifestyle! It's not just our name, but who we are!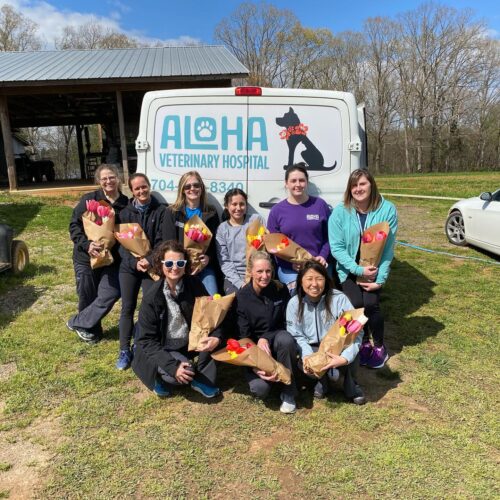 Veterinarian
Aloha hopes to attract veterinarians with a proven track record and solid experience. Our ideal candidate should share our core values and who are looking for a place to work that feels like home!
Read More